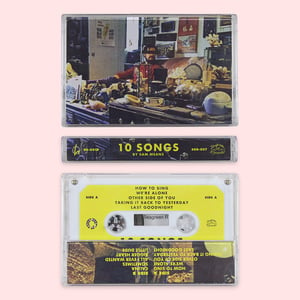 $

5.00
First run is 100 white cassettes <3
You may not recognize Sam Means' name but chances are you're familiar with his work. From 2001 until 2008 Means was one half of the celebrated Arizona indie-pop act The Format alongside Nate Ruess (who later went on to form the Grammy Award-winning act, fun.). After The Format called it quits, Means put his focus on starting a family and creating a band merch company however he never stopped thinking about continuing to make his own music. "After The Format broke up I was given an opportunity to score the indie film The Sinking of Santa Isabel so I got a bunch of my friends together to do that—and when I was finished I thought, 'Okay, now I'm going to make a record' and that was 2009," he adds with a laugh. It may have taken six years for him to get around to it, but Means' debut full-length 10 Songs was worth the wait and is teeming with the infectious energy that has endeared his previous act to so many fans over the years.
Although Means has released a handful of EPs and 7-inches in the interim and had a surprise success with "Yeah Yeah" from the film soundtrack, which was placed in over two dozen television commercials worldwide and became so popular in the Netherlands that it hit the #1 slot on iTunes and was eventually certified Gold, it wasn't until last year that he got serious about making this album a reality. "I rented a little studio in downtown Phoenix and just went down there as much as I could; I would work on one new song each night, record a quick demo and move on," he says. Eventually Means ended up with 30 songs to choose from and cut the list down to 10 after him and his inner circle—which consisted predominantly of Ex-Format bandmates: bassist Don Raymond Jr., guitarist Marko Buzard and drummer John O'Reilly Jr.—all came together and started working on them until ultimately as a unit they came to a collective consensus about which songs they should record for the album.
In order to fully realize these songs, Means reached out to Steven McDonald—who also produced The Format's celebrated 2006 album Dog Problems—and shortly afterward Means found himself making sporadic trips to McDonald's Los Angeles studio to record them. Although it had been almost a decade since they worked together, the duo picked up right where they left off. "For a majority of the time it was just Steve and I working together, which was awesome because we have a really good dynamic," he says. That's evident from listening to 10 Songs, an album that is reminiscent of the distinctive brand of pop that Means co-created with The Format but also introduces a newfound maturity that comes with fatherhood, life experience and time away from the the stage.
From the upbeat, Cars-worthy groove of "Other Side Of You" to the piano-driven pop perfection of "Taking It Back To Yesterday," 10 Songs is an incredibly eclectic collection that showcases the diversified scope of Means' songwriting. It also notably features lush, expansive arrangements on tracks like "All I Ever Wanted" that were created with help from another Dog Problems collaborator, Jellyfish's Roger Joseph Manning Jr. "Since I had so long to process the demos I had some specific ideas on how it should sound and over the course of a few hours in a room with Roger I explained exactly what I hoped for and we had a very similar vision," Means says. "I got really lucky to be able to work with him for a second time because he just nailed the arrangements on this album completely."
The idea of second chances is present at the core of 10 Songs and Means is incredibly thankful that he has the opportunity to make this album. "I'm very lucky to be able to do this on the terms I set for myself," Means explains. "I did take a pretty big chunk of time off but I'm glad that I could find a way to make this work with my lifestyle." Additionally, themes of gratitude and adulthood are paralleled in the lyrics of 10 Songs which were predominantly written in a stream of consciousness late at night. "I think a lot of personal stuff came out in these lyrics accidentally just because of the process in the sense I would scribble down what I was feeling and then come back to it later," he says. "A lot of it is definitely centered around a guy in his thirties growing up and making realizations that he wouldn't have made as a teenager as he transitions into an adult and finds out who he is now."
In many ways 10 Songs marks a new beginning for Means which is something that's both exciting and daunting for the musician who previously shied away from the spotlight. "It's a little awkward for me because although I've been in bands for years I was always in the corner hiding behind a guitar" he admits. "But I put a lot of time into making this one. I'm really proud of it. I just want people to know that it exists. I think that's really all than I can ask for."
By Jonah Bayer